Prince Edward Child Care Services
Child Care Resource Centre
10 McFarland Court in Picton

Families and child care providers are invited to:
Structures playgroups at various locations throughout the county
Mobile toy lending library
Drop-ins casual meeting place
Child care education resource library, newsletters, workshops
Parent support information on selecting child care options
Red Cross babysitting course
New parent packages
Relief child care
Children's literacy resources
Home Child Care throughout Prince Edward County

The Home Child Care Program is designed to meet individual needs of children from birth to 12 years of age by offering supervised care within a family setting. Homes are selected and carefully screened according to requirements of the Day Nurseries Act. Arrangements may be made between parent and caregiver for full, part-time, hourly, after-hour and shift-work care.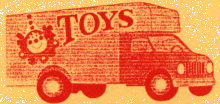 For more information on Home Child Care and Resource Centre programs, call 476-8142.
This web site is produced by Owl in the Sun and copyright to PERG June 20, 2000